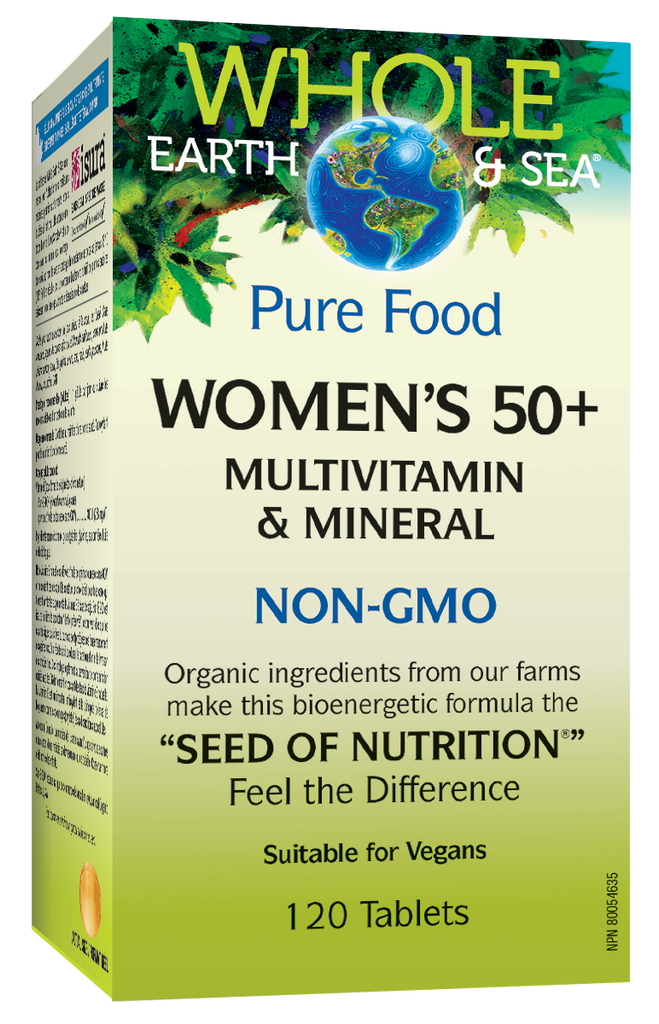 Whole Earth and Sea Women's 50+ Multivitamin 120's
$44.99
$52.49
Whole Earth and Sea Women's 50+ Multivitamin 120's
About Women's 50+ Multivitamin & Mineral
Bioenergetic Whole Earth & Sea formulas are the next generation of whole food supplements, delivering raw, whole food nutrition with real health benefits. Many of the vitamins and minerals in this nutrient-packed formula are sourced from plants such as amla, lichen, algae, kelp, natto, garlic, tomato, and sunflower, with food-source nutrients more easily absorbed and used by the human body.
Every formula contains meaningful amounts of each vitamin, mineral, and phytonutrient – not just the minimum required to list it on the label! Each tablet includes 150 mg of Farm Fresh Factors™, sourced from fresh raw plants, whole sea vegetables, cruciferous sprouts, fruit, and herbs, many of them grown on Natural Factors certified organic, non-GMO farms. Proprietary EnviroSimplex® processing keeps the temperature below 48 °C (118 °F), resulting in raw nutrition that captures all the vibrant energy and goodness of nature.
The Pure Food Women's 50+ Multivitamin & Mineral contains vitamin and mineral complexes important for women over 50, including calcium and magnesium in a 2:1 ratio, vitamins D3 and K2, alpha-lipoic acid, and vitamin C. Easily absorbed active forms of folate and other B vitamins are also included, alongside enzymes, antioxidants, and phytonutrients for energy and vitality, making the vegan-friendly Women's 50+ Multi ideal for older women looking for an organic, raw-food-based multi.