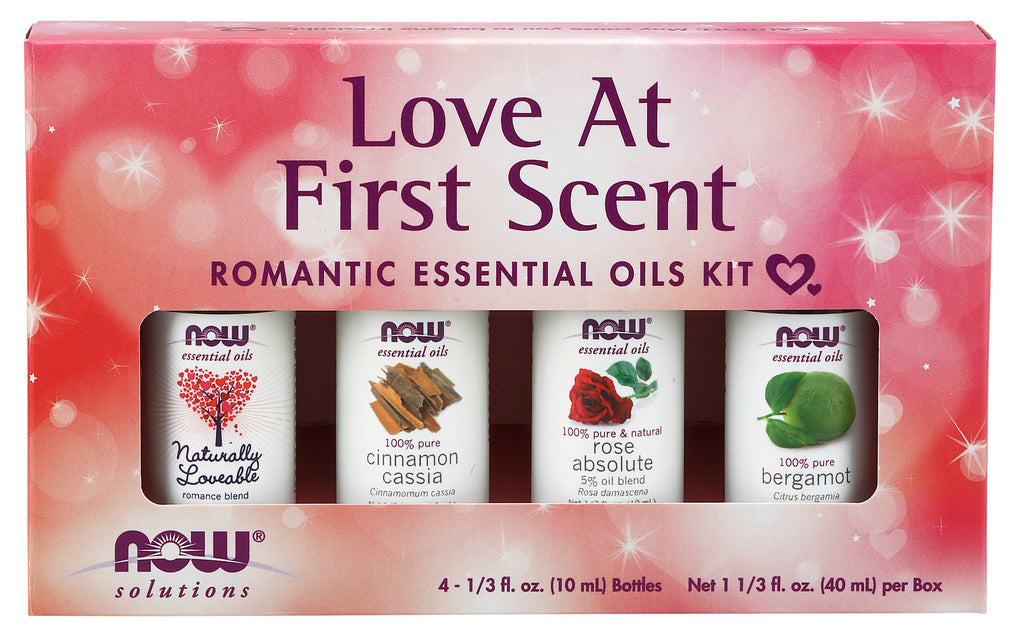 Love At First Scent Romantic essential oils kit NOW
$23.42
$25.68
Love At First Scent Romantic essential oils kit NOW
Romantic Essential Oils Kit

Four of Our Most Popular Romantic Essences to Promote Love Anytime, Anywhere
Kit includes:  One 10 mL bottle of each of the following essential oils:  Naturally Loveable Oil Blend, Cinnamon Cassia Oil, Rose Absolute Oil and Bergamot Oil
NATURALLY LOVEABLE OIL BLEND
Aroma: Sweet, floral, citrus
Attributes: Romantic, comforting, calming
Extraction Method: Lemon Oil, Orange Oil – Cold Pressed; Sandalwood Blend, Ylang Ylang Oil – Steam Distilled; Jasmine Absolute Blend – Solvent Extracted
CINNAMON CASSIA OIL
Aroma: Warm, spicy
Attributes: Warming, stimulating, refreshing
Extraction Method: Steam Distilled from plant's leaves and twigs.
ROSE ABSOLUTE OIL
Aroma: Pleasant rose
Attributes: Romantic, uplifting, comforting
Extraction Method: Solvent Extracted from rose petals.
BERGAMOT OIL
Aroma: Sweet, fruity
Attributes: Lively, inspiring, uplifting
Extraction Method: Cold Pressed from fresh fruit peel.
Visit our website for recipes and ideas on how to enjoy our essential oils.
Purity Tested/Quality Assured
Love is in the air, and it feels wonderful. Even the gloomiest of days can't bring you down when you have that loving feeling! Wouldn't it be nice to feel so wonderfully positive every day? Now you can with the natural fragrances in NOW® Solutions Love at First Scent Essential Oils Kit.