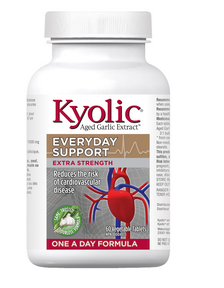 Kyolic Aged Garlic Extract 60's everyday support extra strength
$26.99
$29.99
Kyolic Aged Garlic Extract 60's everyday support extra strength 
Aged Garlic Extract™ [600 mg] (per serving).
KYOLIC® Aged Garlic Extract™ begins with 100% organically grown garlic from California. It is then aged to perfection in a unique extraction process to eliminate odor and create beneficial compounds found only in Kyolic.
This convenient, high-potency formula supports healthy cholesterol levels which are already within normal ranges, and overall heart health.*
Take the best-KYOLIC® Aged Garlic Extract™, the most scientifically researched, highest quality and best-selling odorless Sociable Garlic®.